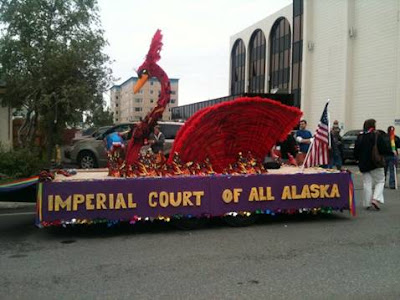 Two days into a camping trip, I received a text message that a Pride Parade float entered in the Anchorage 4th of July parade had been destroyed by a suspicious fire.
The Imperial Court had 48 hours to rebuild. They called for volunteers and for the LGBTA community to march along with the new float. In the nearest town, I shared that information on Bent's Facebook wall before the connection quit.
Coming home last night, I saw photos of the new LGBT float and the queer youth float that also participated in Sunday's parade.
The Pride float was built by the efforts of many. Thanks to the LGBT people and allies who created the float so quickly and with so much style. Thanks to the businesses and individuals who donated the materials, funds and labor to rebuild the float. Thanks to all who rode and walked with the float. And thanks to the Facebook users, local media, and bloggers for reporting the fire and the story of Phoenix Rising, the LGBT float that won the Grand Prize in the 4th of July parade. It was a community effort, in every way.
A fund is set up to help rebuild Paula & Ken Butner's garage (Wells Fargo account #9297382088). The fire investigation is still in progress. In a possibly related incident, the police are investigating eggs thrown on the home of Daphne, the emcee for the LGBT float.
Meanwhile in the town of Homer, Alaska, the LGBTA float for the July 4th parade was created without incident by PFLAG and the Gay/Straight Alliance, but the announcer refused to introduce the PFLAG/GSA float when they passed the judging booth. One of the marchers had to step forward and tell the crowd who they were.
More people rode in the PFLAG rainbow skiff this year, and several of the walkers wore Alaska rainbow socks. The LGBT contingent included the skiff, two bicycles, two gay olympic athletes with their medals, a skateboarder, a group of walkers, and a blond queen wearing a pink sweater-set with black leather boots and riding a motorcycle.
Thanks to the national LGBT book blogger Band of Thebes (who lives part time in Homer) for
the story and photos
.